Review: The Streak (ESPN Original Documentary)
Tivo Alert:
For anyone who missed the Brandon show, it will air again Monday, May 5th from 2-4 pm on ESPN2 (check local listings).
-----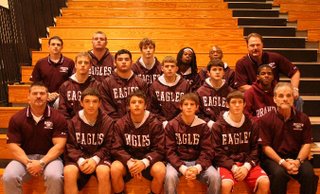 In watching the ESPN original documentary,
The Streak
, covering the '07-'08
Brandon High School
Eagles wrestling team, I was immediately struck by their leader,
Russ Cozart
, who sets a terrific tone for the entire program, both on and off the mat.
Prior to watching the documentary, all I knew about Cozart was what I read on message boards-- mostly negative stuff about his son, Rocky--but this program showed me all one needs to know about message boards.
The character and class that Cozart showed throughout the program give every indication that he's a first-class man on top of being an outstanding high school coach. This stands in direct contrast with former Hoover High School coach/community demagogue Rush Propst of MTV's Two-a-Days fame. On the spectrum of high school coaches featured in reality television, Propst strikes viewers as a raging egomaniac that was quick to blame his athletes while Cozart chooses to instill class and character into his boys.

Watching footage of Cozart's son Joey as a freshman in the 2007 Florida AA State Finals, and the coolness under pressure he exhibited while head and arming a two-time reigning state champ to win his own title in the waning seconds of a match indicates that Russ' composure is in the genes.
In that vein, one critique I've read the most regards the number of headlocks Brandon throws throughout the doc. Some argue that it's a Greco influence fostered by Cozart while others view it as indicative of the quality of high school wrestling in the state of Florida. Either way, I figured this nugget warranted mentioning.

There were a couple of intriguing story lines. Clearly, family is the major theme of the documentary. You have boys whose fathers were part of the streak's early days. You have younger brothers attempting to aspire to the lofty achievements of their older siblings. One of the most touching threads followed a Green Beret Lt. Col. Roger Jones and his son, Ty. As a vet, it was interesting to watch a heroic leader who's reached the highest levels of an incredibly tough career path instill a work ethic and courage in his son. Raising kids, apparently, is much different from training soldiers. Jones the elder was also a Virginia High School State Champ, and it's awesome to see former wrestlers excel in Special Forces positions.

I was also impressed with the caliber of student Brandon has produced in recent years. A couple of the alumni (the elder Grajales and Timothy brothers) returned to visit the program from UPenn and Cozart's had the ability to place many of his athletes in strong programs both academically and athletically.

Spoiler Alert: The 34-year old streak ends during the course of the documentary at an astounding 459 (!).

The most real moment of the documentary comes as the team sat in the locker room after falling to South Dade. You talk about all-to-real moments, those tears the boys shed after losing the streak were those that only a high school wrestler could fully comprehend and respect. No other sport asks so much of its athletes.
The total body, mind and soul immersion required by even average athletes is so demanding that you truly have experience it to totally understand it. Think of how sadistic and insane it is for a growing high school boy to have to diet! Again, the lessons learned in that room are the reason why so many wrestlers end up succeeding in later endeavors (see Jones, Lt. Col. Roger).

Interesting Note: The production company of BHS Alum Mark Consuelos (Mr. Kelly Ripa) was the driving force behind this documentary. Man, that guy is cool.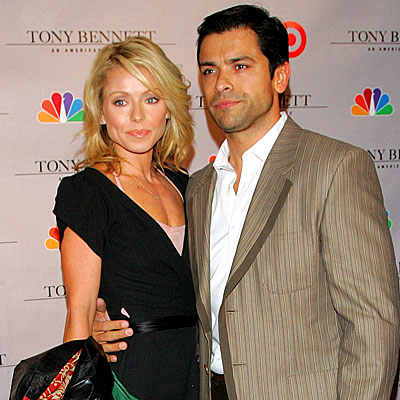 Other Reviews/Discussions:

The Mat.com
ESPN
Tivo Alert:
For anyone who missed the Brandon show, it will air again Monday, May 5th from 2-4 pm on ESPN2 (check local listings).
Labels: Brandon High School, High School Wrestling